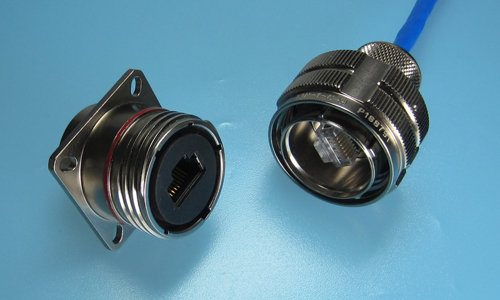 ETHERNET & USB
Connector system with 38999 series III derived metal shell with full 360° shielding and RJ45, USB or Firewire connectors. Specifically designed to combine full mechanical protection and reliability for high speed data connections  in demanding environments.
Call us and our experienced team – we will help you to choose the right type. If it does not exist, our expertise is to develop completely new connectors.
INFO
38999 type threaded connector for USB, IEEE1394 Firewire or Ethernet RJ45.
Cable plugs, panel mount connectors or feedthroughs.
Connectors in bronze , nickelplated or military green cobolt zinc.
We also have over moulded RJ45, IEEE1394 Firewire and USB A, B, mini, Micro, 3.0, and type C.