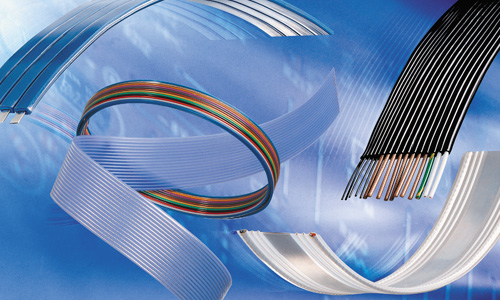 FLAT CABLES
Cables with round or flat conductors in parallel configuration. From easy to use low cost FFC cables for ZIF connectors to complex hybrid multicore cables with mix of power, data and signal conductors that survive millions of bending cycles in automation robots.
Call us and our experienced team – we will help you to choose the right flat cable. If it does not exist, our expertise is to develop completely new flat cables.
INFO
Ribbon cables with pitch 0,635, 1,27, 2,54 or 3,96mm for IDC connectors.
Insulation of Teflon® FEP, ETFE, PVC or halogen free materials.
Flextrack® –  flex resistant hybrid cables with mixed power, signal and data.
Silform® – super flexible flat cables for -60°C to+180°C.
Flexlink® – flat conductor cables with PET-insulation for crimp terminals.
FFC – Flat Flexible Cables for ZIF connectors.
RFC – Round to Flat Cables for through hole soldering to PCBs.
FDC – Flat cables  for displays, shielded 100 ohm LVDS.