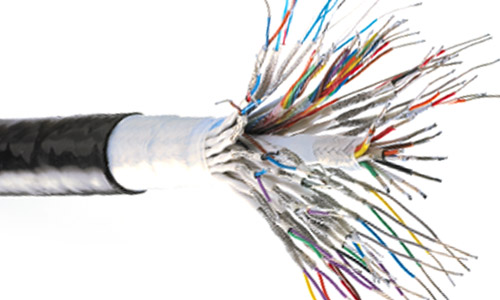 WIRE & MULTICORE CABLES
Ger the right wires for box build internal wiring or round multicore cables for I/O solution meeting the electrical, mechanical and environmental demands in your specific application.
Call us and our experienced team – we will help you to choose the right cable. If it does not exist, our expertise is to develop completely new cables.
     INFO
Single wires with solid or multi stranded conductors of OFHC, TPC, SPC and NPC.
UL-approved multi core or hybrid with twisted pairs.
Insulation materials such as Teflon® PTFE, Silicone, PUR, PVC or PE.
Resistant to radiation, chemicals and  temperatures -200°C to +1565°C.
Fire resistant and halogen free cables.
Data and BUS-cable for Profibus, USB, Spacewire, Ethernet 10GB/s etc.
Sterilisable and with ISO10993 approved materials for medical technology.
Flexible and with endurance for millions of bending cycles in robotic systems.